Increase Your Inversions by 200% with Chord Synonyms
An as introduction to this Chord Synonyms lesson I posted the following chord diagram on my Facebook page and asked my users to guess what chord it was.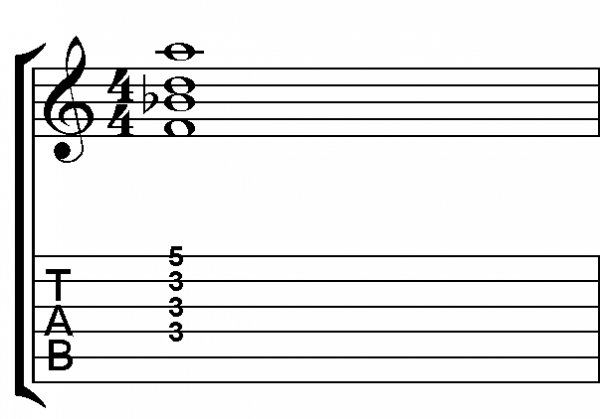 I often ask this question to my students and some say Major 7th chord others guess, Minor 7th and some say Dominant 7th. Truth to be told everyone is right in their answers because there is no definite answer to this question due to the chord being out of context and having no root in the bass.
When learning to play jazz guitar an important skill that helps us get more from vocabulary is seeing one chord as multiple over chords which are sometimes reffered to as chord synonyms.
Not only does seeing multiple chord possibilities within each chord type give you more possibilities for superimposing in single line improvisation it also gives us more comping options.
While one chord may potentially be many different types of chords this lesson will focus on interchanging the three main chord types; Major 7th, Dominant 7th and Minor 7th.
The benefit in learning this means that if you was comping a progression that primarily utilizes one chord type like a blues using dominant 7ths, you can mix major and minor 7th chords with your dominant 7th inversions giving you three times the chord vocabulary you would normally have. This technique was shown to me by the fantastic guitarist Adrian Ingram.
If we examine the chord shown at the beginning of this lesson, three different chord types can be found by changing the root and keeping the notes on the top three strings in place.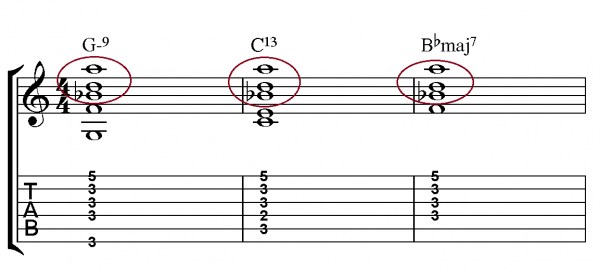 Notice that there are overlapping notes in each inversion and that from these three chords G-9 and C13 are II-V's in the key of F major.
This shows that any II chord can be replaced with it's V chord, and any V can be replaced with it's II chord meaning that in either a resolving or non-resolving II-V situation you have the option to either comp or blow just using one chord type instead of two.
This substitution is used by jazz guitarists such as Wes Montgomery, George Benson and Pat Martino. Wes Montgomery made great use of this concept in his latin-blues composition 'Cariba' where the bassist plays a Bb blues and Wes uses F minor inversions.
When the progression moves up a forth to Eb7 Wes uses Bb-7 inversions. Eb7 is the chord in content and Bb-7 is the II of Eb7 in the key of Ab major 7.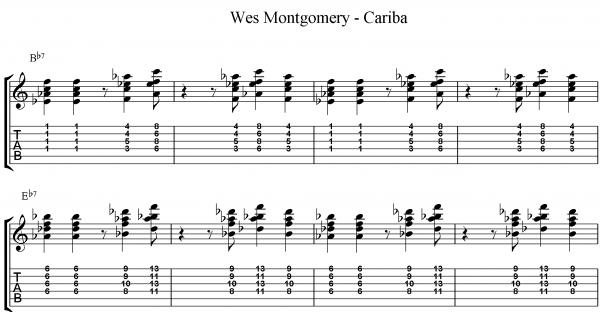 The third and final chord type that can be used over the dominant 7th chord is the major 7th. You can apply your major 7 inversions over dominant 7th chords by thinking a tone below the root of the dominant 7th chord in question.
For example if the chord in content is a Bb7, the root is Bb, and a tone below Bb is Ab. Therefore, Ab major inversions can be used over the Bb7.
If the major 7th chord substitution is applied over the IV chord in a Bb 12 bar blues, which is Eb7, Db major 7 inversions can be used.
The following diagram shows all the potential substitutions that you can use over the first 8 bars of the jazz blues progression.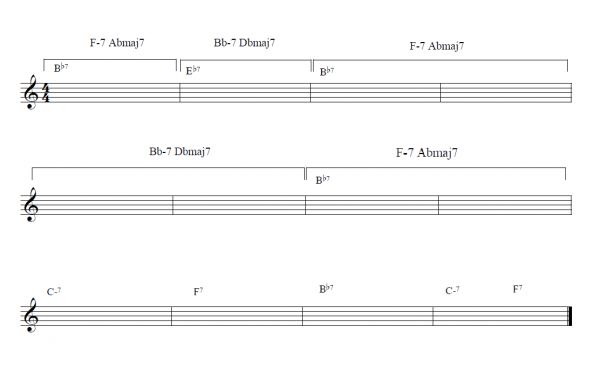 This Chord Synonyms concept is very effective when there is one chord an extended amount of time like the first 8 bars of a blues, modal situations, or over a one chord vamp.
I have used the blues as an example in this lesson because most jazz guitar players will know this form so the concepts can used straight away but chord synonyms should be applied to all the jazz standards that you know.
Remember that the Chord Synonyms concept also works great for single line soloing too.
Purchase the "30 Days to Better Jazz Guitar Comping Ebook" with 20 pages of extra material, lessons and audio examples!
Return to the 30 Days to Better Jazz Guitar Comping Homepage
Did you find this lesson useful for expanding your chords? Share your thoughts in the comment section below.
Connect with Jamie Holroyd Guitar on Facebook
If you're on facebook why not follow the
Jamie Holroyd Guitar page
where you will get:
Instant access to new lessons when they are posted
The chance to ask me jazz guitar related questions
The opportunity to participate in jazz guitar related discussions
Notifications of other jazz guitar lessons and videos
Free Ebooks and Skype lessons by participating in give aways